By Charles Morrison, Director of Clinical and Epidemiological Sciences, FHI 360
Are women who take hormonal contraceptives at an increased risk of acquiring HIV? If so, do some contraceptives put women at higher risk than others?
This week, the influential health journal, PLOS Medicine, published the results of a large individual-participant data meta-analysis, authored by FHI 360 and collaborators, that seeks to answer these questions.
While this issue matters to the field of reproductive health, it is especially critical to women in East and Southern Africa. In these regions, women potentially have a double risk factor: high rates of HIV and high use of hormonal contraception, particularly depot-medroxyprogesterone acetate (DMPA), a type of contraceptive that is injected every three months. So far, the evidence on DMPA shows that it is the hormonal contraceptive that has the most potential to increase HIV acquisition; however, the evidence is inconclusive.
FHI 360's meta-analysis combines the results of 18 prospective studies, including more than 37,000 women, of whom more than 1,800 became infected with HIV. We found that women who used DMPA had a 50 percent increased risk of HIV acquisition compared with women who did not use hormonal contraceptives. We found no significant increase in HIV risk among women using combined oral contraceptives (COCs) or norethisterone enanthate (Net-En), a contraceptive injected every two months. Women using DMPA also had an increased HIV risk when compared directly with COC or Net-En users. (more…)
By Patrick Fine, Chief Executive Officer, FHI 360
Let's start the New Year by looking at how we talk about development. It is striking how certain concepts and buzzwords rally people around ideas and mobilize us into action. The buzzwords themselves become powerful change agents. Yet, when they mature into unquestioned orthodoxy, they can restrict our vision and dull our understanding. Here are two buzzwords we love to use in development that are ripe for a deeper look.
Sustainability. Development and sustainability go together like bricks and mortar. But this term now has two distinct meanings in development parlance. One meaning refers to policies and actions that safeguard the environment and do not deplete our natural resources. This meaning has gained currency over the last 15 years. The second, and at least in my experience more common use, refers to a recipient partner's interest and ability to continue projects or reforms financed by donors once donor funding ends. This use is closely associated with the concept of country ownership. When USAID adopted sustainable development as its credo in the mid-1990s, it was a response to the criticism that donor-funded projects collapsed when the funding ran out, often up-ending years of effort. This was partly a result of donors not wanting to take on recurrent costs that were seen as the partner's responsibility. The lack of serious planning for recurrent costs remains a major challenge in international development.
Yet, should sustainable development even be an objective in a world where technology is changing everything around us at an exponential rate? Do we really want to sustain yesterday's solutions? I think not. (more…)
By Lisa Johnson, Associate Director of Workforce Programs, National Institute for Work and Learning, FHI 360
A version of this blog originally appeared here on The Huffington Post/Global Motherhood. Reposted with permission.
It was 100 degrees outside when we pulled up in front a school in Mumbai last month. We were greeted by the sounds of booming drums, singing voices and ringing tambourines. The children were assembled outside of the school to welcome us. Before arriving, I was curious about how these children would receive us, but all doubts slipped away as they met us with open arms. The memory of that welcome continues to humble and inspire me in my travels to similar schools around the globe. Fifty students from two Mumbai schools were selected to participate in the three-year Johnson & Johnson Bridge to Employment (BTE) program designed to provide academic support, encourage lifelong learning and build awareness of careers in health care. BTE also works with parents, teachers and employees to support and guide students to new opportunities.
According to 2012 data, only 58 percent of students from municipal areas graduate, leaving 42 out of every 100 young people without a high school diploma. For more than 20 years, BTE has been focusing on impacting communities all around the world with similar statistics.
We've trained over 20 Johnson & Johnson employees, who serve as volunteers to mentor these 50 children, ages 13–16. BTE volunteers here in India and in all programs around the globe talk to their mentees about life and what it took to reach their own career goals and why civic engagement matters. Mentors teach students time management as well as resume writing, interviewing, teamwork and communication skills. (more…)
By Louise Dardis, North Dakota Program Manager, Succeed 2020 project, FHI 360
The goal of Succeed 2020, an education and workforce development project in North Dakota, is to help the state's students become better prepared for college and 21st century careers.
Achieving this goal is no small task. North Dakota's eight Regional Education Associations (REAs), our primary partners, are leading implementation of Succeed 2020. With management and technical assistance from FHI 360, the REAs work with school districts to improve their educational programs and services through professional development, direct services and data analyses. The REAs are bringing together institutions of higher education, community-based organizations, business associations and employers, state and local government agencies, and Native American groups to ensure that all students have access to rigorous curricula, ongoing college and career planning, and the supports they need to succeed in school.
Our numbers show that Succeed 2020 is making significant progress. In the 2013–2014 school year, 2,000 teachers, 300 administrators, and 150 counselors and careers advisors participated in professional learning opportunities that ranged from workshops on how to improve students' literacy and numeracy skills to one-on-one guidance to understand classroom data. Professional learning communities bring together teachers from similar grades and content areas to solve common challenges.
By Tricia Petruney, Technical Advisor, Research Utilization, FHI 360
A version of this post originally appeared here on Devex. Reposted with permission.

One of the most promising trends in global development is the rising priority of understanding and investing in "what works." As the funds available for international assistance have flatlined in post-recession years, everyone from donors to practitioners has become increasingly committed to making decisions that are informed by evidence. Given FHI 360's commitment to research utilization, we're encouraged by the attention being paid to evidence-informed development. Yet, the best-kept secret within the growing what works movement is the importance of learning not just from our successes, but also from our failures.
Based on typical nongovernmental annual reports, scientific conferences and even social media content, one can be forgiven for forming the impression that our development efforts are nearly perfect. Successes are proudly packaged in glossy formats and heavily disseminated, whereas any objectives not achieved are relegated to the obligatory and typically short lessons learned section. Yet, this practice does not accurately represent an important reality: Development efforts do in fact fail.
Venture capitalists and corporate investors understand that less than 20 percent of new businesses will succeed, and they invest in innovations and new ideas with a transparent acknowledgment of the high risk for failure.
So why, by comparison, is the global development enterprise so different?
Read the remainder of the blog here.
By Kevin Osborne, Project Director, LINKAGES, FHI 360
A version of this post originally appeared here on Devex. Reposted with permission.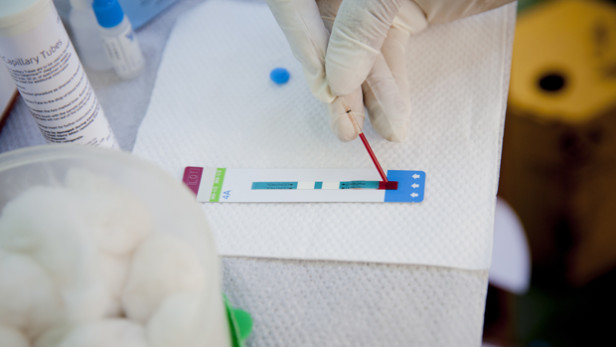 The AIDS epidemic has been characterized by the stigma and discrimination of people who are all too often already on the margins of society.
This marginalization has made it more difficult for millions of people on every continent to access much-needed HIV prevention, treatment, care and support services. As we recognize International Human Rights Day on Dec. 10, we cannot lose sight of the inextricable link between HIV and human rights, which should be the cornerstone of our response to and understanding of this epidemic.
And there is, perhaps, reason for cautious optimism. Despite some policy gains and increased global attention, HIV continues to disproportionately affect "key populations" — men who have sex with men, sex workers, people who inject drugs and transgender people. UNAIDS estimates that 40 to 50 percent of new adult HIV infections worldwide occur among key populations and their partners.
Read the remainder of the blog here.
By Stephanie Davison, Program Manager and Director of the Green Corrections Project, FHI 360
The primary goal of corrections in the United States is keeping the community — everyone from offenders to those who work within prisons and jails — safe. Policies and strategies within the corrections community, however, increasingly emphasize cost containment and environmental sustainability. Addressing these two goals in tandem has proven to be a great opportunity for correctional leaders and their partners.
FHI 360's Green Corrections project contributes to the goal of making the corrections system more environmentally sustainable by facilitating the sharing of effective practices and lessons learned.
A recent competition, the Green Corrections Challenge, highlighted exciting and innovative green practices in local, state and federal correctional facilities and reentry programs in the United States. The competition, part of the Green Corrections project, showed how dedicated corrections professionals are minimizing negative environmental impacts, saving taxpayer dollars and preparing offenders for green jobs. (more…)
By Elizabeth Tolley, Senior Scientist, and Dr. Timothy Mastro, Director, Global Health, Population and Nutrition, FHI 360
The rapid spread of the Ebola virus through human-to-human contact — compelled by the urge to embrace a family member with symptoms of infection, to transport a neighbor to the nearest clinic, to nurse the infected or bury the dead despite the lack of basic protective gear — reminds us of the complex relationship between health and human behavior.
Like Ebola, HIV was once an emergent infectious disease. Although HIV may take years rather than days to kill its victims, similarities exist between HIV and Ebola in the conditions that facilitate their spread and the challenges to containing both diseases. Highly stigmatized, those who fear infection may avoid being tested or disclosing to loved ones; those diagnosed may face limited treatment options provided by harried health care workers within overburdened health care systems.
Now in its fourth decade, the fight against HIV has seen tremendous breakthroughs in medical technology. A spectrum of antiretroviral (ARV) treatment options now exists and is available around the globe. Clinical studies have proven that taking a daily oral ARV-based pill can reduce a healthy person's chance of getting the infection — and, other types of ARV prevention products (i.e., gels, rings and injections) are on the horizon. Increased testing through provider-initiated strategies has increased access to both treatment and prevention technologies. There is even some thought that we will have a cure for HIV one day. (more…)

To mark World AIDS Day, the Joint United Nations Programme on HIV/AIDS (UNAIDS) recently launched its annual report on the state of HIV/AIDS globally. This year's report, Fast Track: Ending the AIDS Epidemic by 2030, presents new targets to avert 28 million new HIV infections and end the AIDS epidemic as a global threat by 2030.
The new UNAIDS "fast-track" approach emphasizes the need to focus on the counties, cities and communities most affected by HIV and recommends that resources be concentrated on the areas with the greatest impact.
The report also contains the latest data on the state of the epidemic globally.
More details about the report are available, including a press release, a fact sheet, infographics and social media messaging.
Follow #FastTrack and @UNAIDS to join the conversation.